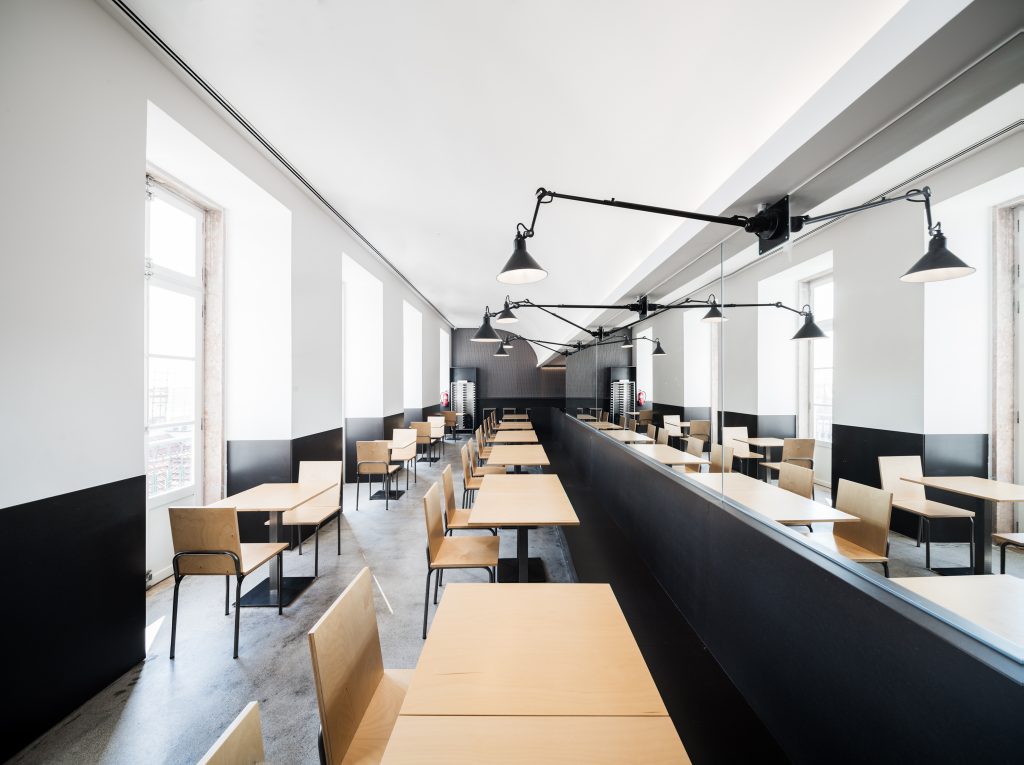 The "H3 New Hamburgology" restaurant is integrated in the Armazéns do Chiado shopping center, in Lisbon, a notable building renovated by Álvaro Siza Vieira, Eduardo Souto de Moura and Joan Busquets in 1997-99, in the aftermath of the historic 1988 Chiado fire. The rehabilitation project successfully restored the charm of this historic building while equipping it for new uses.
The large vertical windows facing east mark the distinctive character of this space and the functional program of the restaurant was defined in order to respect and potentialize this unique quality. The kitchen, counter and service zones were strategically organized in a L-shape plan and concentrated in back, low-lit section of the space, while the entire dining area was laid by those windows, overlooking Lisbon´s Historic downtown area, with the strong presence of the beautiful cross street, Rua da Assunção, topped by a striking view of São Jorge Castle.
The project is defined by two moments that steer the costumer's experience: the ordering area and the dining room. Those have different volume and spatial conceptions, although they are uniform in their composition and materiality. The first is defined as a straightforward functional space with ample area for circulation, in contrast with the sheltered spatial reality of the dining room. A break in ceiling height differentiates the two spaces, revealing a curved surface that opens up in the direction of the windows, capturing daylight and opening up to the views of the city. In this quiet dining room, secluded away from the service areas, a mirror defines an infinite visual plan, for those who sit with their backs to the windows can also contemplate the view of Lisbon while enjoying their meal.
In regard to materiality, a continuous cement-based marmorite unifies the floor surface, while the walls have a dark grey Valchromat liner that outlines and allocates the program through the construction of counters, fixed benches, niches and cabinets throughout the entire space. Matching these features, two light grey Valchromat walls with a subtle carving of the brand identity that highlight the lateral perimeter of the curved ceiling. The existing windows have been restored with the original shape and composition, generously providing magnificent views and the indispensable sunlight to the everyday use of H3 New Hamburgology restaurant.
h3 Armazéns do Chiado restaurant
Architecture / Furniture Design: Tomás Salles, Gonçalo Duarte Pacheco
Lighting Design: Joana Forjaz
Photography: Ricardo Gonçalves